Key to your best bakeware
We at KeyBAKE design, produce and supply bakeware, with or without coating, for artisan bakers and (semi)industrial bakeries in the Netherlands and abroad.
KeyBAKE bakeware & coating
Since the end of 2022, KeyBAKE Bakeware & Coatings B.V. is part of the Kempf group. With our highly qualified staff and our state-of-the-art production lines, we are in a position to offer optimal quality at prices that are in line with the market standard. We constantly optimise our products and production lines, thus guaranteeing the high quality we are known for. KeyBAKE supplies directly from its own production and has short lines of communications between customer and production. This assures perfect coordination between the customer`s wishes and developing a product with optimal results. KeyBAKE is a global leader in the production of tin sets for bread, hamburger and hot dog bun trays, flat or perforated baking trays with or without moulds, special baking trays with moulds, peel boards, baguette pans, baking racks, Teflon and silicone coatings.
KeyBAKE is specialized in bakeware & coatings and has more than 40 years of experience in designing and producing bakery tools that perfectly meet the requirements of you. Due to our professional knowledge and the use of state-of-the-art producitions lines, we make customers-specific bakery tools at a competitive price. We strive for optimal efficiency in your bakery system, with cost savings and sustainability as starting points. This is where our KeyCOAT coatings play a big part. We guarantee flexibility and customer focus at fair prices.
Consistent premium quality
Suitable for (semi) industrial use
High accuracy in dimensioning
Solid construction tailored to bakery line
Good air flow
Stackable for robot handling
In various types of material and optional coating
Custom made baking trays with or without moulds

Standard baking trays

  

Flat or perforated material

Stackable for robot handling

Execution in many materials: aluminum, stainless steel, aluminized steel or chrome steel
Hamburger bun trays

Hot dog bun trays

Cupcake trays

Muffin trays

P

izza trays

Special baking trays
Perfect depanning of the baked goods owing to outstanding non-stick properties

Outstanding abrasion resistance

  

Long life time

Reduction in cost owing to the omission of release agents and cleaning

       

Improved appearance and product quality as a consequence to the omission of oil and grease in the baking process

Minimal outlay in terms of compliance with safety standards and hygiene regulations
Very good price-performance ratio     
Anti-slip effect despite being non-stick due to hygroscopic properties      
Suitable for (semi) automatic bakery lines with long transport distances
PEEL BOARDS/TRAYS FOR DOUGH PROOFING
Suitable for all types of dough with or without spreading agent
Comply with hygiene regulations
Easy to clean – very hygienic
Outstanding non-stick properties
Suitable for use in racks and automatic production lines
Stainless steel oven and storage racks suitable for various types of ovens

Suitable for industrial use

    

high quality castors and wheels
KeyBAKE products in the spot lights.
We are in close contact with bakers and machine suppliers of bakery systems. Based on more than 40 years of experience, we know exactly how to design and produce a large variety of baking tins. We emphasise the importance of high-quality baking moulds for an automatic bakery processes, resulting in fewer production failures over time and lower production costs. The quality of our coating will also contribute to an optimal baking result.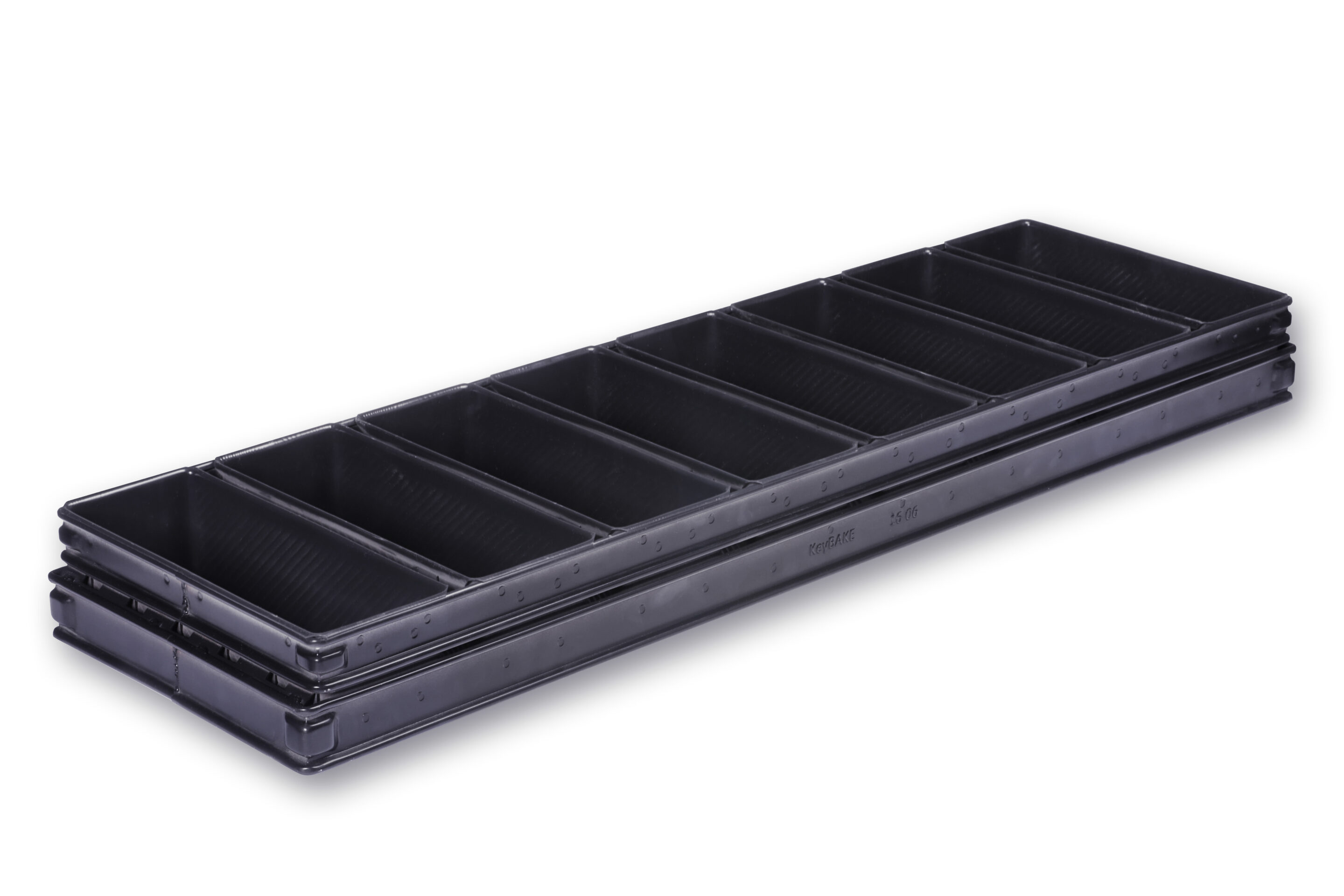 De Tjonger 2-4
8253 PZ Dronten 
The Netherlands
Job Offers
KeyBAKE is looking for skilled personnel. Feel free to contact us for further information.
Bread pan straps
Baking Trays
Baking Forms
Peelboards
Coatings
Racks
Based on our 40 years of experience we are able to improve your capacity and baked product.